Couple Dance Lessons
Couples who take dance lessons have more "date nights"!
They LOOK for opportunities & events that give them an excuse to enjoy the hobby they've developed!
And with the right teacher, LEARNING to dance together is FUN!
CLICK HERE TO SCHEDULE YOUR FIRST VISIT
Your First Lesson is offered at a reduced rate of only $79.00.
If you do not enjoy the first lesson, there's NO OBLIGATION to continue. However, if you enjoy the first lesson, we'll plan additional lessons, to see how much progress we can make!!
What YOU can Expect On Your First Visit :
Your teacher will introduce several different rhythms & dance styles to help you discover, which dances come more naturally to you, as a couple.
CLICK HERE TO SCHEDULE YOUR FIRST VISIT .
🎶 EXPERIENCE MATTERS 👫 Good Dancers are everywhere. Good Teachers, on the other hand, are hard to find. There is no substitution for experience, when it comes to teaching adults. Over the past 20+ years, we've had more than 1500 couples take lessons with us, most of whom, had NEVER attempted dancing, before walking through our doors. There's no "one size fits all" answer to adult learning. But, with more than 29 different partner dances to choose from and years of teaching experience, we can teach anyone willing to put in the effort to learn.
CLICK HERE TO SCHEDULE YOUR FIRST VISIT .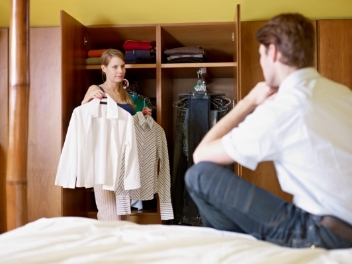 What To Wear On Your Lesson
SHOES: Ladies should NOT wear heels during the first several months (we want you to have maximum balance). Both leaders & followers should wear leather soled shoes if possible (so you can slide around the floor). If you don't have leather soled shoe, a VERY worn sneaker (without tread) is better than a rubber soled shoe.
ATTIRE: It's true, dancing is considered an elegant activity, but we have a casual environment→ NOT barbecue-type casual. Couples often wear nice jeans & casual shirts. SHORTS &/or FLIP FLOPS are NEVER appropriate attire. Sleeveless Tops/Shirts (...ladies too) should always be avoided. (...ladies this will make a lot more sense after you've had lesson or two)

It MIGHT be important to note here, Best Of All Dance is NOT in the Ballroom Competition Business. If you start looking like a dancing mannequin or begin making forced facial expressions during Latin dances, you have strayed very far off of OUR path. In the long run, we want you to look like you know HOW TO DANCE (and not, as though you took dance lessons).
Have you been trolling various studio websites? If yes, we're sure you've noticed, dancers rarely post prices online (beyond the proverbial "special").
We're not "shifty". It's just plain fear.
We're a service without a clearly defined consumer.
Phrased another way... If couples looking for dance lessons, had also taken private lessons in golf, skiing or even skateboarding... teachers wouldn't worry about sticker shock.
Hopefully the following will give you reassurance:.
Q) Do all Newbies at B.O.A.D. pay the same price?
A) Yes. 1st Visit = $79.00 for one 40 minute session.
Q) Do some students at B.O.A.D. pay less than others?
A) Yes. If our client enrolls on 10 months of dance lessons and they're attending 6 lessons p/mo, OF COURSE they're going to get our best rate! (FYI - ALL clients are on monthly installment payments. B.O.A.D. does not let customers pay for any lesson, that can't be taught within 4-5 weeks.
Q) Some Studio websites boast "No Contracts" &/or "No Programs/Packages". Are "Contracts/Programs/Packages" something I need to worry about?
A) NO. 1970-Early Internet Days . . . there were MANY fitness centers, ballet schools and a few ballroom places, ...where patrons paid up-front & the business folded before services were provided. That NEVER occured with us. And, as mentioned before, we don't allow anyone to pay-in-full, months in advance for their lessons. So, at least with OUR studio, this is a non-issue.
Q) If I've never taken Private Lessons in anything, how do I know if I'm paying too much?? What is the cost AFTER the first lesson?
A) If you have never taken Private Lessons in anything or rented commercial space for your own business, this is a LOGICAL QUESTION. Here are some consistencies:
Learning to dance obviously, requires SPACE.
▪ If the lesson location is a storefront in the suburbs, and only 1 instructor rents the space, the instructor will budget $1 to $2 per minute, for "the space" (50 minutes = $50). And if you think that is "excessive", you need to look at retail rent rates. Which, in KC suburbs AVERAGE (not low/high) . . . $18-$25 per sq/ft BEFORE utilities and "common area" costs. Then, given the area & the amount of advertising he/she can afford, there's a limit to the number of clients that share the cost of the space. To top it off, the instructor also needs to make an income, thus he or she will charge a $30-$40 premium above the cost of "the space". This premium, is NORMAL for one-on-one instruction that requires physical strength, mental endurance and body contact.
▪ In many cities, Ballroom studio's are located in deteriorating or industrial areas, and several instructors share "the space". A student should expect a lower price at these places since the instructors' overhead is HALF the cost, compared to the suburbs; But, don't expect the TOTAL price of the lessons to be HALF the rate of the suburbs . . . They wont be. Overhead is 35-40% of each lesson, instead of 50-65% of each lesson.
▪ In contrast, if your lesson is held is in the basement of the teachers home, your TOTAL price, should be 30% less than, the "average" cost of dance lessons at a studio. But, "couples dancing" is a body-to-body contact activity and lessons in the basement of a teachers home, tends to feel Creepy.
The real questions should be... do you feel good about the lesson? Are you comfortable with the teacher? Do they seem to know their stuff? Does it feel as though they have YOUR best interest at heart or are they just . . . on auto-pilot?