Couple Dance Lessons
Couples who take dance lessons have more "date nights"!
They LOOK for opportunities & events that give them an excuse to enjoy the hobby they've developed!
And with the right teacher, LEARNING to dance together is FUN!
CLICK HERE TO SCHEDULE YOUR FIRST VISIT
Your First Lesson is offered at a reduced rate of only $79.00.
If you do not enjoy the first lesson, there's NO OBLIGATION to continue. However, if you enjoy the first lesson, we'll plan additional lessons, to see how much progress we can make!!
What YOU can Expect On Your First Visit :
Your teacher will introduce several different rhythms & dance styles to help you discover, which dances come more naturally to you, as a couple.
CLICK HERE TO SCHEDULE YOUR FIRST VISIT .
🎶 EXPERIENCE MATTERS 👫 Good Dancers are everywhere. Good Teachers, on the other hand, are hard to find. There is no substitution for experience, when it comes to teaching adults. Over the past 20+ years, we've had more than 1500 couples take lessons with us, most of whom, had NEVER attempted dancing, before walking through our doors. There's no "one size fits all" answer to adult learning. But, with more than 29 different partner dances to choose from and years of teaching experience, we can teach anyone willing to put in the effort to learn.
CLICK HERE TO SCHEDULE YOUR FIRST VISIT .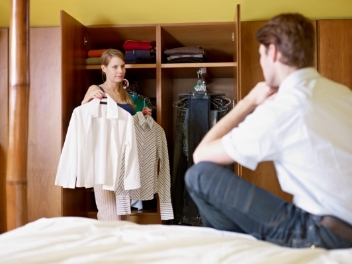 What To Wear On Your Lesson
SHOES: Ladies should NOT wear heels during the first several months (we want you to have maximum balance). Both leaders & followers should wear leather soled shoes if possible (so you can slide around the floor). If you don't have leather soled shoe, a VERY worn sneaker (without tread) is better than a rubber soled shoe.
ATTIRE: It's true, dancing is considered an elegant activity, but we have a casual environment→ NOT barbecue-type casual. Couples often wear nice jeans & casual shirts. SHORTS &/or FLIP FLOPS are NEVER appropriate attire. Sleeveless Tops/Shirts (...ladies too) should always be avoided. (...ladies this will make a lot more sense after you've had lesson or two)

It MIGHT be important to note here, Best Of All Dance is NOT in the Ballroom Competition Business. If you start looking like a dancing mannequin or begin making forced facial expressions during Latin dances, you have strayed very far off of OUR path. In the long run, we want you to look like you know HOW TO DANCE (and not, as though you took dance lessons).
Have you been trolling various studio websites? If yes, we're sure you've noticed, dancers rarely post prices online (beyond the proverbial "special").
We're not "shifty". It's just plain fear.
We're a service without a clearly defined consumer.
Phrased another way... If couples looking for dance lessons, had also taken private lessons in golf, skiing or even skateboarding... teachers wouldn't worry about sticker shock.
Hopefully the following will give you reassurance:.
Q) Do all Newbies at B.O.A.D. pay the same price?
A) Yes. 1st Visit = $79.00 for one 40 minute session.
Q) Do some students at B.O.A.D. pay less than others?
A) Yes. If our client enrolls on 10 months of dance lessons and they're attending 6 lessons p/mo, OF COURSE they're going to get our best rate! (FYI - ALL clients are on monthly installment payments. B.O.A.D. does not let customers pay for any lesson, that can't be taught within 4-5 weeks.
Q) Some Studio websites boast "No Contracts" &/or "No Programs/Packages". Are "Contracts/Programs/Packages" something I need to worry about?
A) NO. 1970-Early Internet Days . . . there were MANY fitness centers, ballet schools and a few ballroom places, ...where patrons paid up-front & the business folded before services were provided. That NEVER occured with us. And, as mentioned before, we don't allow anyone to pay-in-full, months in advance for their lessons. So, at least with OUR studio, this is a non-issue.
Q) If I've never taken Private Lessons in anything, how do I know if I'm paying too much?? What is the cost AFTER the first lesson?
A) If you have never taken Private Lessons in anything or rented commercial space for your own business, this is a LOGICAL QUESTION. Here are some consistencies:
Learning to dance obviously, requires SPACE.
▪ If the lesson location is a storefront in the suburbs, and only 1 instructor rents the space, the instructor will budget $1 to $2 per minute, for "the space" (50 minutes = $50). And if you think that is "excessive", you need to look at retail rent rates. Which, in KC suburbs AVERAGE (not low/high) . . . $18-$25 per sq/ft BEFORE utilities and "common area" costs. Then, given the area & the amount of advertising he/she can afford, there's a limit to the number of clients that share the cost of the space. To top it off, the instructor also needs to make an income, thus he or she will charge a $30-$40 premium above the cost of "the space". This premium, is NORMAL for one-on-one instruction that requires physical strength, mental endurance and body contact.
▪ In many cities, Ballroom studio's are located in deteriorating or industrial areas, and several instructors share "the space". A student should expect a lower price at these places since the instructors' overhead is HALF the cost, compared to the suburbs; But, don't expect the TOTAL price of the lessons to be HALF the rate of the suburbs . . . They wont be. Overhead is 35-40% of each lesson, instead of 50-65% of each lesson.
▪ In contrast, if your lesson is held is in the basement of the teachers home, your TOTAL price, should be 30% less than, the "average" cost of dance lessons at a studio. But, "couples dancing" is a body-to-body contact activity and lessons in the basement of a teachers home, tends to feel Creepy.
The real questions should be... do you feel good about the lesson? Are you comfortable with the teacher? Do they seem to know their stuff? Does it feel as though they have YOUR best interest at heart or are they just . . . on auto-pilot?
Wedding Dance
Best Of All Dance has an outstanding reputation for bringing entertainment to weddings!
♦ 1/3 of our Wedding Programs are Bride & Groom Routines!
♦ 1/3 are Father & Daughter Dances or Mother & Son Dances!
(...a wonderful gift & precious one-on-one time between a parent & bride/groom).
♦ Parent Dances & Wedding Party Dances, make up the rest. We've even choreographed a Wedding Party Flashmob!
Best Of All Dance is so strong in this area, that wedding programs, make up almost 40% of our schedule each week! And no two Wedding Dances are the SAME!
Wedding Dance
Best Of All Dance Wedding Programs include choreography, practice time and music editing*. The length of a wedding program can be whatever you wish; but most people give us at least 10 visits. Your wedding is a special day and we take great pride in helping you look as good as you can!
The length of a wedding plan depends on many things:
♥ Style / Type of song,
♥ Type of Dance,
♥ How much time you are willing/able to try this,
♥ Your Individual Retention and
♥ How elaborate you wish to get.
When someone wants to do more than sway back-and-forth...there is NEVER a "standard" wedding program. Each wedding plan is customized according to your TIME, ABILITY and BUDGET. The greatest obstacle, to helping you look as good as you can, is usually TIME. Waiting to start 60 days before your event, is not the best idea if it can be avoided.
Before we start a wedding program, we need to meet for a consult & mini-lesson. Through this session, the teacher will be able to give you a realistic idea of what can & cannot be accomplished in the time frame you're able to give us. As long as you are comfortable with what the instructor discusses with you, we'd be happy to schedule additional lessons.
If possible, please try to bring the following with you:
♦ If you have your song picked out...PLEASE bring it with you on CD or IPOD
♦ If you can bring the dance floor dimensions of the reception hall, that would also be helpful.
♦ Please bring your calendars/schedule for the coming weeks.
CLICK HERE TO SCHEDULE A WEDDING CONSULT/MINI-LESSON
*Please scroll to bottom of page for music editing info,.
choreography, video/web learning.
Wedding Dance Entertainment?
Here's a challenge for you: set a timer during a "Dancing With The Stars" routine.
Most people are very surprised to realize, the routines are only ONE minute (... 1½ minutes at most)! Why? It's the reality of audience attention spans: Even with elaborate costumes, fancy moves, alternating camera angles, back-up dancers, stage sets, music dubbed into your living room (overriding audience chatter) and a 5 minute build-up describing the practice "drama", the performance cant hold your attention for longer!
From the perspective of your wedding guests, a couple that wobbles back-n-forth (doin' the "prom sway"), for 3-5 minutes, is not going to be the "movie scene" from your imagination. It can be a snooze-fest but, it doesn't have to be! Instead, you can let our instructors help you create a Bride & Groom Dance, a Father/Daughter Dance & a Parent Dance, that everyone has fun learning, is proud to dance and your guests enjoy watching! Learning a dance for your wedding, feeling the movement, seeing it improve and come together . . . the reward is in the journey, and not just the wedding day (though that's great too)!
When you look for help with your wedding, you consult an expert. Best Of All Dance instructors ARE experts! Our staff have been choreographing dance routines for Beginner Adults and Non-Dancers for more than 20 years! We can help you capture whatever mood you wish to create! And our wedding programs include music editing! Most routines are 2-2½ minutes but, we can keep the original song length too... if you prefer!
The Wedding Dances should be a 'bridge' from the ceremony to the 'party'. When planned, they provide momentum into the celebration phase of your reception!
You Cant Escape The Wedding Dance
You can't escape the Wedding dance. It's a long held tradition. There will be a crowd and there will be cameras. So... take the lessons! .
The lessons are FUN and make the VIDEO, fun to watch, for the rest of your life (as you know, people with cell phones will shoot video, whether you like it or not).
We can teach you a combination of steps or a short routine, whichever you prefer. Either way, the steps you learn, can get you through your wedding—and every other wedding, dinner dance, cruise, holiday celebration and covert spy operation you attend for the rest of your life. .
Amazing Emotional Father & Daughter Dance
(click the X to get rid of those annoying YouTube Ads)
Fun Bride & Groom Dance!
(click the X to get rid of those annoying YouTube Ads)
Excellent Father and Daughter Dance! Very Classy!
Romantic Bride and Groom Dance
Whimsical Mother & Son Wedding Reception Dance
Very Nice Wedding Dance Partial
Jay and Barbara First Dance
Photos Edge
Wedding photography on this site was provided by Kansas City Photographers "Photos Edge". Check out their website http://photosedge.com/
Music Editing & Choreography
Best Of All Dances' music editor has more than 30 years experience mixing music for dance routines, events & night clubs. Most wedding songs can be edited in less than 5 hours and choreographed in the same amount of time. But, the amount of time we need to devote to either activity, is influenced by a great number of factors including the complexity of the music, the amount of lessons we have to work to with, how much a couple practices between lessons, etc. Even the best laid "plans" need to be altered as the routine unfolds. Since most couples attend at least 10-15 Private Lessons, wedding song editing & choreography is included in most wedding plans. Choreography &/or Music editing is not included, when the amount of time devoted to either activity, exceeds the number of lessons attended. For pricing info on lessons, please see our "couple dance" page.